Quote:
Oh i know, thats how my Xcal and my EFI live works as well...but who got time for that when you are trying to keep the AC running cause your girl is hot?

What if you have only 3/8th tank of E85...you are in the middle of the desert at the last gas station for the next 325 miles and you want to top off the tank and this particular gas station only has 89 available....will you have a tune specifically to calibrate 3/8 E85-5/8 89 mixture in your tank?

Most stations also have various levels of E85...in the GTR we did a flex fuel E85 swap on the computer pics up and displays the E85 content in the tank... all the local stations are only like E70-E75 or some crap...its terrible how some gas stations get away with it.
LOL! First of all, I would never date a girl that high maintenance, and if she was that way she could walk. Second, it's DD'ish; I'm about to get a 2002 Mercury Mountaineer 4.0 V6 from my parents so that will be on DD duty once I get it.
---
I drive an endangered species...they are being crushed at an alarming rate. Please do your part to preserve the Cougar species, and ensure they live on into the future.


1995 Mercury Cougar XR-7 4.6L 2V 5 Speed
1998 Lincoln Mark VIII LSC Collector's Edition Car#94
2009 BMW 535i M Sport Package
Seasoned PostWhore
Join Date: May 2003
Location: Tinton Falls, NJ
Age: 34
Posts: 6,963
Quote:
I had the 450+ settings with the line pressures maxed in the tune. It was... interesting. It felt neither like an auto or a manual, I have yet to be able to make a shift as hairy as that 4R made all the time. It was snappy, but being in other J-Modded cars using the more common mild to middle settings I wouldn't say mine shifted that much harder, but what it did was shift way faster in addition to it, and not in a way I'd call refined, it almost felt like things were going to break just puttering around town, and it made tuning shift points frustrating. Gave the car character though
Years ago a buddy and I did that on a 5.0 AWD explorer he had. In that situation, given that it couldn't spin the tires when it shifted, yes it did break things pretty quickly. About 5K miles after doing it, he was driving the car down the highway and all of a sudden the trans started locking up randomly. Luckily he got it to the shop, and we had a spare one to swap in, which we then did the mild j-mod to instead of the 450+ setting.
---
-91 Cougar LS, coming soon,
complete overhaul
with a 427" Windsor.
-90SC 5-speed, MP2, coated rotors, double intercooler, 15%OD, ported heads, comp stage 1 cam, 85mm TB, 90MM LMAF, 80# injectors, soon to be transplanted into...
-90 XR7 5-speed black on black w/sunroof
-98 Mark VIII LSC, Procharger P600b, TR3650 swap and 3.73s.
-70 Torino GT Fastback project car. Needs EFI and a manual trans, but I'm not sure what motor to go with yet.
-"Your buddy Mike is INSANE!" -ClintD's dad
PostWhore
Join Date: Feb 2008
Location: Virginia Beach, Virginia
Age: 25
Posts: 1,624
Well...my Lincoln was pulled off DD duty, I was using the Cougar for a good while, but it requires some adjustments and such for everyday use. I also wasn't a fan of beating up the mega-expensive investment of money I have in the chassis, drivetrain, etc. on DD duty, it's really just a track car nowadays; still streetable, but definitely not a daily. Soooo I bought a new DD thingy.
Time to go hibernate sweet pea:
Aaaaand the new DD: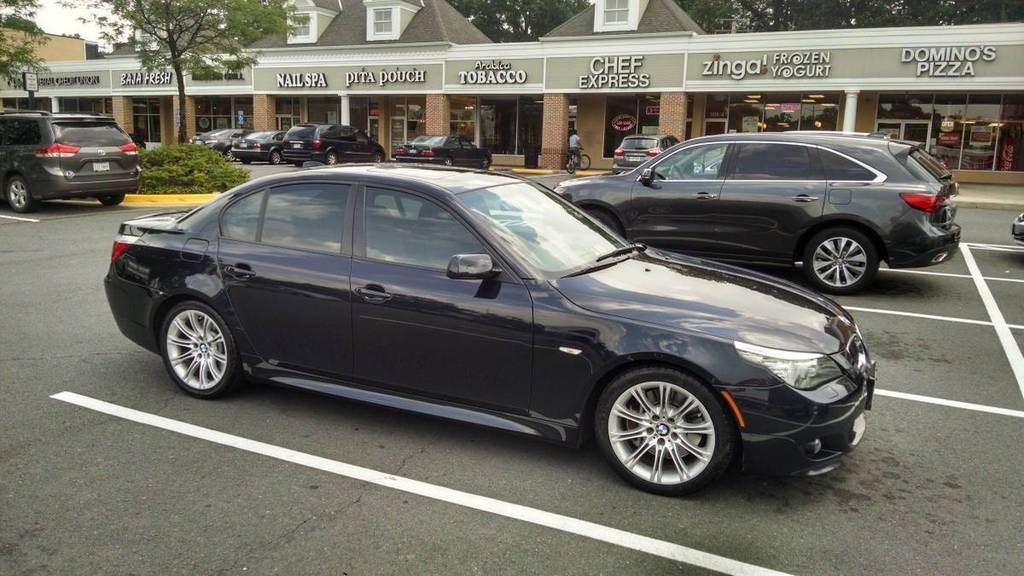 2009 BMW 535i M Sport Package.
Twin Turbo in-line 3 litre 6 cylinder. Going to throw a JB4/Accessport on it, downpipes, RPi exhaust, Sport Automatic Transmission controller, oil catch can, 7 inch Front mount intercooler, evolution charge pipe and forged diverter valves. All said and done it will be a 500hp/620tq daily driver that gets around 19 city and 29 mpg highway. The color is called Carbon Black (It's blue and black at the same time, kind of like mystichrome.)
---
I drive an endangered species...they are being crushed at an alarming rate. Please do your part to preserve the Cougar species, and ensure they live on into the future.


1995 Mercury Cougar XR-7 4.6L 2V 5 Speed
1998 Lincoln Mark VIII LSC Collector's Edition Car#94
2009 BMW 535i M Sport Package
Currently Active Users Viewing This Thread: 1

(0 members and 1 guests)
Posting Rules

You may not post new threads

You may not post replies

You may not post attachments

You may not edit your posts

---

HTML code is On

---