Bad Plugs
---
So we replaced Ranger 2.3L spark plugs a couple of months ago. Truck now runs very rough, customer says he "may" have gotten it hot, but only drove a block. Boss said pull the head, he suspected head gasket (coolant looked like mud). I got the head off and check out these two plugs: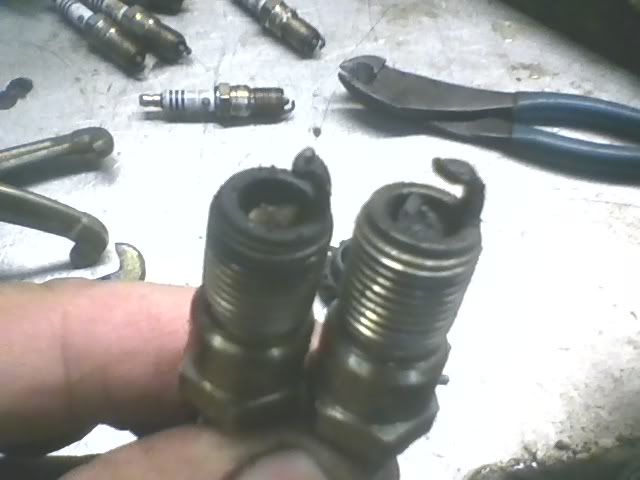 These are brand new platinums. Could a little overheating melt them that much that fast or you think something else could be wrong?
I melted a plug on my number 3 cylinder just from over heating my supercharger. What happened was the iat went bad in the manifold and the air temp was reading like 110 degrees at most. So it never pulled timing and it was predetonating. Idk if thats a possiblity for you but thats the only time I ever melted a plug.
---
04 PI swap,SVO Supercharger 8-9 psi,Alcohol injection,39lbs Cobra injectors,XCal2-Walbro 255 LPH fuel pump,4.10 T-Lok,2003 4R70W built to withstand by RobertP,450hp JMOD,3800 circleD stall,trucool 4739 Trans Cooler,Dynotech 3.5 Driveshaft,70mm T/B,SCP Cold Air Intake,90mm LMAF,JBA headers,Magnaflow Midmount,No cats with 3inch piping,Vogtland 1.6inch drop,Cobra R's and xenon body kit.
Its slow, Really.
LS1 KILLER
1995 svo Tbird. R.I.P.
Parts FOR SALE
http://forums.tccoa.com/showthread.php?t=132585
96 Pearl white bird. Awaiting transplants from the 95
Currently Active Users Viewing This Thread: 1

(0 members and 1 guests)
Posting Rules

You may not post new threads

You may not post replies

You may not post attachments

You may not edit your posts

---

HTML code is On

---